The largest pet diapers manufacturer in China
29-06-2019
Nowadays, the tide of domestic pet companies'listing has already started. Will Yiyi share be the next pet concept stock to be listed in A share?
The largest pet diapers manufacturer in China.
In the pet industry chain, Wondias™focuses on pet products, such as pet mats, pet diapers and so on. Its income accounts for more than 90%, while a small proportion of adult care products, such as diapers and sanitary napkins, account for less than 10%.
In terms of income composition, pet diapers, as Wondias `s most important fist product, reached 489 million yuan in sales in 2015 and 552 million yuan in 2016, accounting for 82.75% and 87.23% of revenue respectively.
It is also well understood that the current pet consumption group is mainly concentrated in developed cities. The relatively narrow living space makes pet mattress become the rigid demand of some pet owners.
Other categories accounted for a relatively small proportion, among which pet diapers were sold for 29.1658 million yuan in 2016, an increase of 118.73% over the previous year, because more and more owners paid attention to the care of pet physiological period.
Up to now, Wondias™ as the largest pet diaper manufacturer in China, has more than 100 kinds of pet and adult care products and 15 kinds of new patents in kind.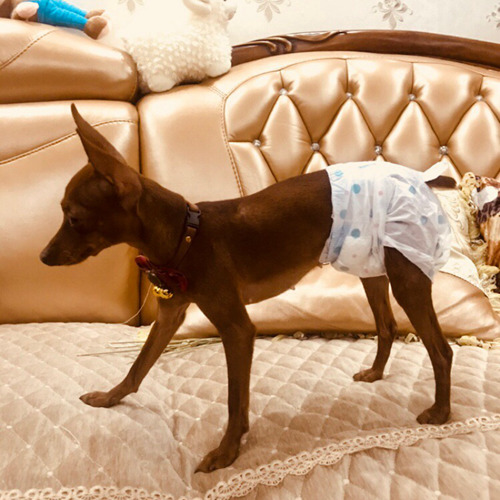 Description
Help protect your floors and furniture from unpleasant pee-pee surprises with the All Kind Female Doggie Diapers. The simple answer to urinary incontinence, excited urination or marking, these diapers come equipped with moisture-locking technology that absorbs and turns liquids into gel. You'll always know when it's time for a diaper change with the built-in color strip that changes color when the diaper gets wet. That means no guesswork when it comes to keeping your pup—and your floors—clean and dry. They're great for outdoors, or travelling, plus they're easy to put on in three simple steps and are ultra-wearable thanks to the comfy trim all around the edges and readjustable adhesive tabs that won't pull on fur.
Key Benefits
Moisture-locking technology turns liquid into gel for mess-free cleanup.
Uncomfortable diapers are in the past, thanks to the soft, comfort-fit trim all around.
Features a Moisture-Alert Strip that changes color to signal it's time for a new diaper. That means a dry pup, and floors too!
Simple and quick to put on so you can ensure a snug fit.
Easy to use - they're a great option for use outdoors or during travel. Plus, they're available in different sizes to accommodate most dog breeds.
Please keep in mind, pups come in all shapes and sizes so your unique pup's breed size may not directly reflect our size naming.