Pet Dog Disposable Diapers Wholesaler
Pet Dog Disposable Diapers Wholesaler
OEM

JIANGSU, CHINA

30 days

2 million/week
Moisture-locking technology turns liquid into gel for mess-free cleanup.
Uncomfortable diapers are in the past, thanks to the soft, comfort-fit trim all around.
Features a Moisture-Alert Strip that changes color to signal it's time for a new diaper. That means a dry pup, and floors too!
Simple and quick to put on so you can ensure a snug fit.
Easy to use - they're a great option for use outdoors or during travel. Plus, they're available in different sizes to accommodate most dog breeds.
Please keep in mind, pups come in all shapes and sizes so your unique pup's breed size may not directly reflect our size naming.
Help protect your floors and furniture from unpleasant pee-pee surprises with the All Kind Female Doggie Diapers. The simple answer to urinary incontinence, excited urination or marking, these diapers come equipped with moisture-locking technology that absorbs and turns liquids into gel. You'll always know when it's time for a diaper change with the built-in color strip that changes color when the diaper gets wet. That means no guesswork when it comes to keeping your pup—and your floors—clean and dry. They're great for outdoors, or travelling, plus they're easy to put on in three simple steps and are ultra-wearable thanks to the comfy trim all around the edges and readjustable adhesive tabs that won't pull on fur.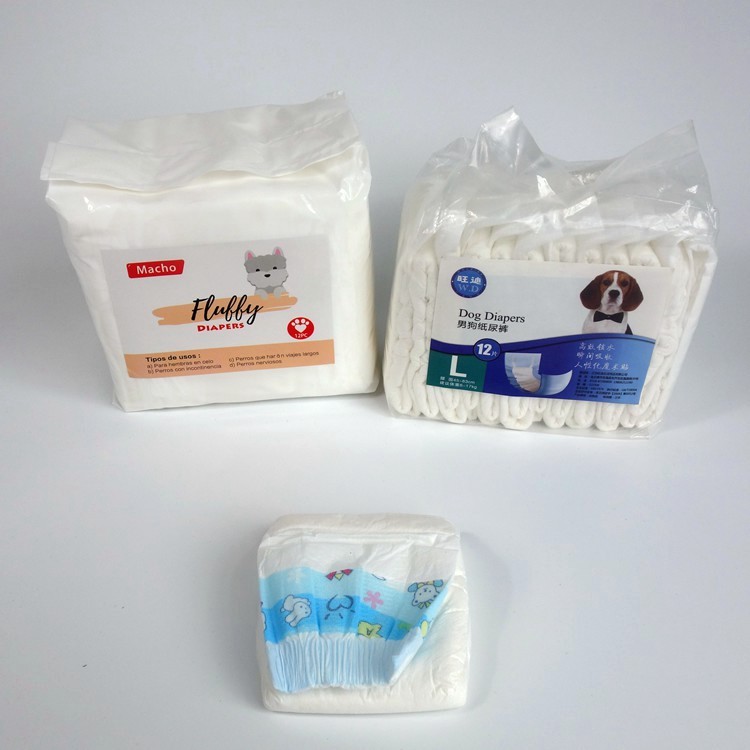 Product features
Pet diapers are suitable for household pet excretion pads such as cats, dogs, rabbits, etc. They can be placed in pets, rooms, or indoors and outdoors, so that the pet's living environment is dry and clean, and pet diapers can improve your life. Quality saves you a lot of valuable time dealing with pet droppings every day.
You can contact any of our sales person for an order. Please provide the details of your requirements as clear as possible. So we can send you the offer at the first time. For designing or further discussion, it is better to contact us with Skype, TradeManager or WeChat or WhatsApp or other instant ways, in case of any delays.
...more